BLOG ARCHIVE |
Pallet Rack Column Protection - Which Style Is Best?
Worldwide manufactures multiple different styles of column guard protection pieces – each designed for a specific purpose and with varying levels of protection. Which style is best suited for your warehouse?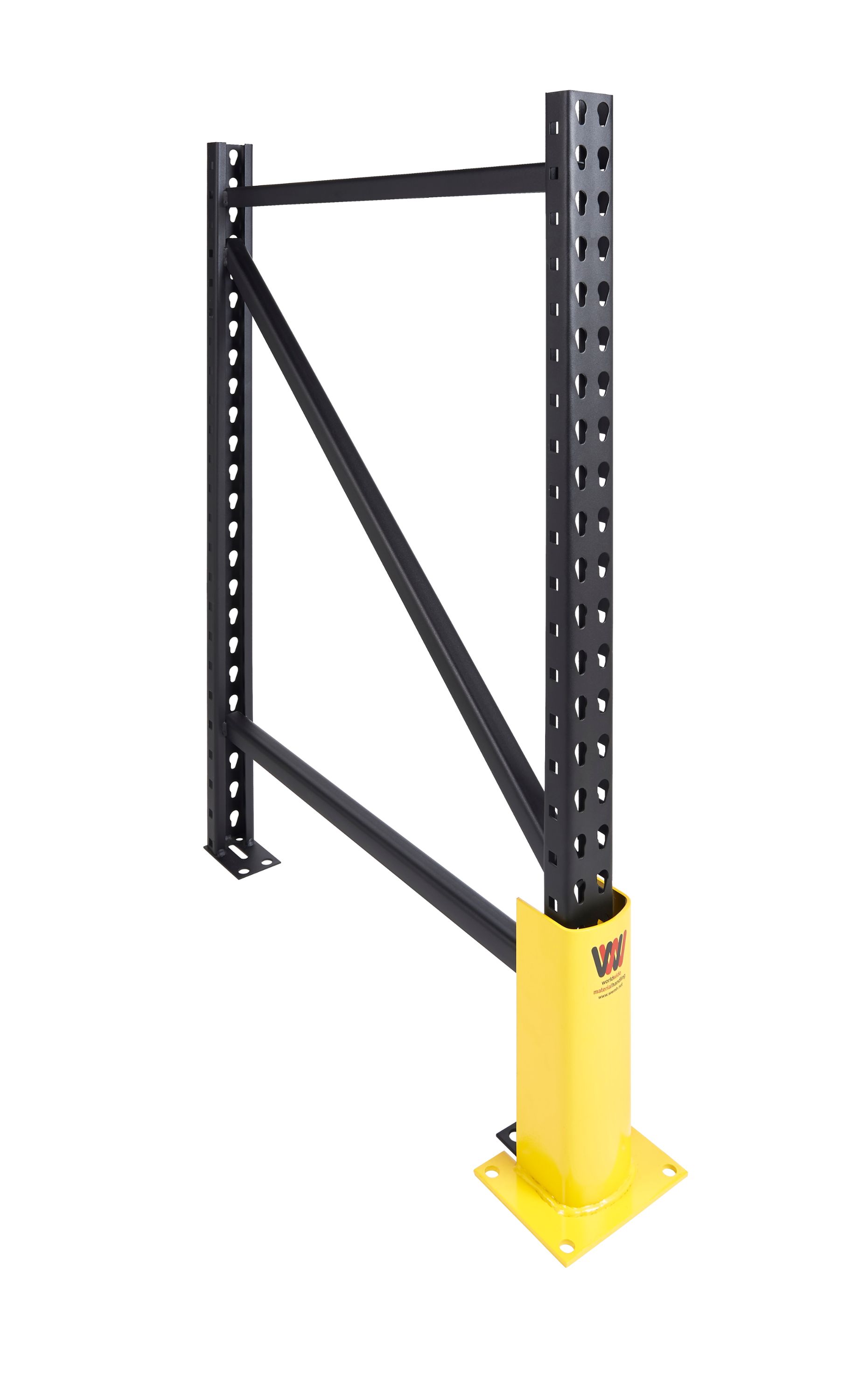 Our traditional pallet rack column guard is available in 3 different heights- 12", 18", and 24"- to offer the exact coverage you're looking for. These column guards protect the bottom portion of pallet rack, where most damage occurs. All sizes are floor mounted and will fit any 3"-wide columns. We can also manufacture column guards that fit all styles of pallet rack. Get more info on column guards for column protection.
The v-nose protector is a small but powerful option in post protection. Standing just 4" tall, the v-nose is made specially to accommodate low beam levels. The v-shaped front will deflect forklift contact while maintaining its low profile. It fits all 3"-wide pallet rack columns and is mounted with a heavy 3/4"-diameter floor anchor. Custom sizes and widths can be manufactured to fit all styles of pallet rack.
The WorldRAM offers all-around protection with its hybrid design. A unique alternative to other post protectors, the rubber elastomers and steel provide superior impact absorption. An individual WorldRAM comes in a height of 5" or 12". For even more surface protection, the WorldRAM can be stacked 2 high to achieve up to 24" of coverage! All of these sizes install easily, wrapping around the column rather than anchoring to the floor. In addition to great protection, the WorldRAM also reduces column stress by 72%.
The WorldGuard is the only pallet rack frame protector that protects and reinforces pallet rack at the same time! The WorldGuard installs from the front of the pallet rack, making it easy for using on closed tube applications. Frame protectors each stand 24" tall for maximum coverage and anchor to the floor for support you can trust. The 3" high x 5/16" high bull-nose guard deflects forklift damage, much like the v-nose protector. Customizable heights, widths, and designs are available.
Protecting pallet rack is high on the list of priorities for most warehouses. However, sometimes it can be difficult to narrow down the options and find the best fit possible. Worldwide's experts are always on hand to make personalized suggestions to fit any facility. From basic protection to the most innovative solutions on the market, Worldwide has your back! Visit our website to learn more about our rack guards! Or learn more about our warehouse storage equipment and pallet rack repair.